Cabinets by Hayley (a division of Hayley Industrial Electronics Ltd.) is a family owned and operated garage cabinet manufacturer founded by Darrell Hayley that "turns garages into rooms" for North America's finest garage owners.
We have built a reputation for manufacturing the best, and most reliable, UPS systems available on the market.
The power units Hayley supplies for industrial applications are housed in exceptionally strong metal cabinets designed to withstand physical abuse and harsh field environments.
The family's expertise in manufacturing metal cabinets —with punching, bending, welding, powder coating, and final assembly all completed in-house, positioned it to expand into the residential market in 2007.
Today, Cabinets by Hayley offers a full line of metal storage cabinets for people who want the best in quality and appearance for their garage storage needs.
The Hayley cabinets founding story spans three generations of Hayleys. Each has pursued both personal and professional excellence, and each has made his mark on the business in his own way.
Hayley got its start with Noel Hayley's passion for manufacturing, his dedication to quality, and his desire to build a "going concern" his family and employees could rely on. Noel likes to say "he got lucky with his success," but we all know that's not true.
Growing up and working in the family business taught Darrell the importance of hard work and integrity. He also enjoyed manufacturing, and had a desire to create and build something new, but it would take some time (and serendipity) before he discovered an unmet need in the luxury garage market.
When his son was just 4 years old, Darrell bought him a go-kart. Cameron loved it. He soon started winning every race he entered, and went on to become a professional stock car racer.
Cameron's 16-year racing run includes many first place finishes, most notably in the NASCAR K&N Pro Series at Daytona International Speedway in 2013. He also went on to race in the NASCAR Camping World Truck Series with several top three finishes.
The idea for Cabinets by Hayley came to Darrell during his early days at the racetrack, serving as Cameron's pit crew. Darrell needed a place to store the tools and equipment he used to keep Cameron's cars in tip-top shape, so he took up the challenge, and built Hayley's first rolling tool chest. From there, he realized he needed a storage solution for his home garage.
Today, the entire Hayley crew is outfitted with their own Cabinets by Hayley garage system. Each garage design is unique to the individual, and each feels it's a perfect fit for their lifestyle.
Cabinets by Hayley is proud to continue in the pursuit of excellence that made Hayley Electronics a success.

This includes a commitment to superior craftsmanship and design, an unwavering tradition of quality and innovation, and friendly, old-fashioned customer service.
We are excited about the future of Hayley Cabinets because we're designing it for you. We know that you are just as passionate about the details as we are.
We'd love to help you turn your garage into a room.
Let's Talk! Noel is patriarch of the family and the founder of Hayley Industrial Electronics Ltd. He got his start in telecom as a technician, but knew from an early age that he wanted to create, and manufacture, quality equipment. His motto, "When Consistency is Critical, Hayley Comes Through Consistently," is what he believed, and it's what he's done for over 40 years now.
Over the years, camping with family and friends, and sailing, filled any available spare time. After the kids were grown, he and his wife took up golf. He says his quality of play does not match the quality of his equipment. In recent years, he spends time in Arizona golfing and exploring canyons and mountains in his 4WD Jeep.
Visit hayleyelectronics.com to learn more.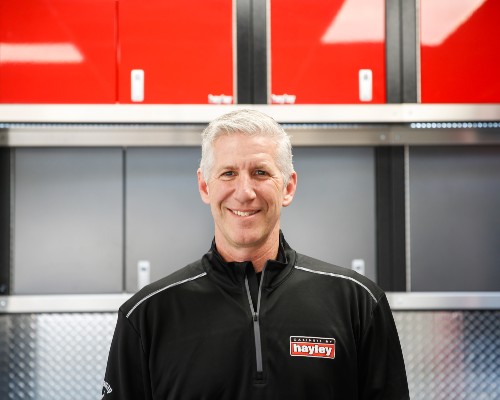 Darrell learned the craft of manufacturing from his father by starting on the shop floor and working his way up. In 1996, Darrell was instrumental in expanding Hayley's sheet metal department and acquiring a powder coating facility. This enabled Hayley to manufacture additional high-end products for its customers, such as specialized industrial enclosures and the premium storage cabinets you know as Cabinets By Hayley.
Outside of work, Darrell enjoys spending time with his family, friends, and especially his granddaughters. In the summer you will find Darrell on his mountain bike, and in the winter on his snowmobile exploring the slopes of the Rocky Mountains.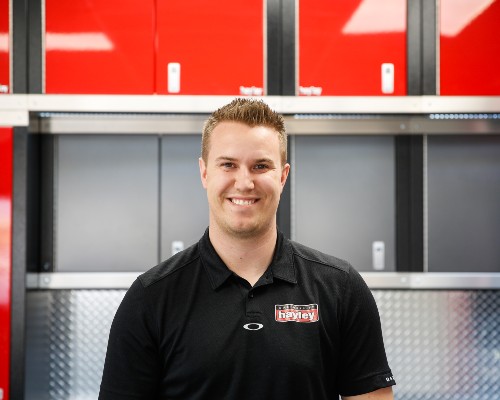 Cameron is the youngest Hayley, and the newest to the business, but his outsized impact is well known by Hayley's cabinet customers as the guy who helps you design the perfect centerpiece for your man cave. He came to the business after a successful racing career in NASCAR and now he's invested in growing the Hayley legacy.
In his spare time, Cameron enjoys spending time with his wife and three daughters, while keeping active through his love for mountain biking and snowmobiling. To stay in touch with his passion for racing, Cameron competes in a super late model series, racing across western Canada. He also enjoys experimenting with different cooking techniques and creating his own spin on recipes for his friends and family.
Explore the Possibilities
Contact us to explore what's possible for your fine garage. Let us help you turn your garage into a room that fits your lifestyle.

Let's Talk!